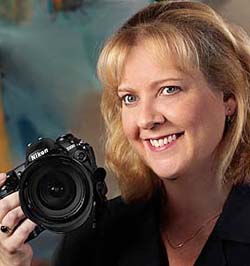 YOUR IMAGE: OUR FOCUS
Donna Callighan fell in love with photography at the age of 16 and has devoted herself to the craft ever since.
Her fascination with "Lights, Camera, Capture" -- combined with her business acumen -- produce images that
speak to the individuals you want as buyers. This talent has come to be valued by marketers throughout the
NY-metro area and around the globe.
Donna Callighan's PHOTO designs takes great pleasure in servicing the creative imagining needs for
corporations, graphic designers, and advertisers by providing quality digital photography of people and products
for over 25 years.
TESTIMONIALS
"When you need the money shot, call Donna Callighan. I've hired Donna for a number of client projects including product, portrait and location shoots - all with challenges to overcome. Her technical knowledge and creativity combine every single time to produce stunning results that put my clients' products and brands levels above the competition. Beyond her professional output, Donna's great personality and in-studio hospitality make it a true pleasure to work with her."
Ellie Becker
Ellie Becker Company
Norwalk, CT
"Donna is the consummate professional. Yet she possesses the creative magic that a photographer must have. I have known and worked with Donna in my capacity as Creative Director since 1999. She always delivers an exceptional product. She knows her craft inside and out and can advise and deliver the best results for the project."
Karen Spencer
Karen Spencer Design
Armonk, NY
"I like working with people who will work with me in solving problems and PHOTO designs does just that. We all work hard, have a lot of laughs, but produce a well executed, creative product that we are all proud of."
Richard Redmond
VP, Creative Director
Grey Advertising, NYC
"I have enjoyed working with Donna Callighan for over 10 years. Donna has consistently given my clients a first class product. I tip my cap to Donna for her total commitment to a project, calmness under fire, conscientious follow through, and exacting executions."
Bob Callahan
Bob Callahan Design
Stamford, CT
"Flexible, Professional, Creative. You can count on Donna to deliver the shots you need, on time and with a smile. It's always a pleasure to work with her."
Mary Ellen Butkus
Senior Designer
TFI Envision, Inc.,
Norwalk, CT
"In August of 1994 Prestone Products became a new company. As the Director of Creative Services, I felt the image of the company would have a major impact on its success or failure. As a result, a quality look was very important to us. I used Donna Callighan for both our consumer and trade advertising, and trade show photography. I have always felt she had a good warm look to her photography, which I think played some part in the success that our company has experienced."
Stuart E. Benedict
Director Advertising, Communication & Graphic Services
Honeywell Consumer Products Group
Danbury, CT
"I have worked with Donna from the beginning. Studio is meticulous. She's an exceptional shooter, very organized. She goes above and beyond, never settles and always ensures 100% satisfaction. Easy to work with…a real pro."
Bob Frabrizio
Creative Director
US Surgical Corp. Tyco International
Norwalk, CT
"Donna Callighan is one of the best photographers in the area. She continuously provides artistic, professional service. Her insight and ability to translate concepts into top-notch photography always satisfies THIS Client's needs"
Patrice Barrett
Art Director & Graphic Designer
Webloyalty.com
Norwalk, CT
"Having worked with different photographers over the years, I have come to value the level of artistry and technical excellence that Donna brings to her work. Her easy going manner and attention to detail is comforting, especially when the job has to be shot right the first time."
Ana Vogel
Vogel Designs
Danbury, CT
"Donna, Your creativity and commitment to your craft always makes you a valued addition to any project I'm working, even the really small ones! Thanks always."
Nat Connacher
Connacher Design
Stamford, CT
"The high quality of Donna's photography goes without saying - what I appreciate most is her ability to understand clients' personalities and individual needs. Donna works efficiently; with creativity and budget in mind. She is decisive, professional, flexible, and upbeat - a joy!"
Stephanie Witham
Art Director
W Graphic Design, Fairfield, CT
Client list includes: Beiersdorf's Nivea, Eucerin, and Futuro brands, Honeywell Consumer Products Group's
Prestone, Fram, and Autolite brands, Zoto's International's AGE beautiful, Odyssey Reinsurance, Arrow Electronics, Hoffman Engineering, and many other mid-sized and smaller company photography needs.
Digital imaging capabilities in the studio or "on the go" worldwide.
Professional affiliations past and present: American Society of Media Photographers (CT chapter former board member), Connecticut Art Directors Club, Women In Photography International, Stamford Chamber of Commerce, and The Business Council of Fairfield County.
Internationally exhibited fine art photographer as well.
Numerous competitive creative and community awards including Member & Volunteer of the Year.
Travel photography of exclusive vacation villas in the US and Caribbean.
Bachelor of Fine Arts in Photography – University of Georgia.
Corporate Industrial training on Fortune 100 Annual Reports.

Copyright – Important Notice!
Please be aware that all the material contained in this website is copyright protected.
Improper use, such as commercial utilization, distribution and copying is a criminal offense under United States and other countries' laws.
Any such use requires the express, written, consent of Donna Callighan's PHOTO designs.
Copyright © 2023 for all photos, text, and other content by
Donna Callighan's PHOTO designs, all rights reserved.